1. Embedded artifact: UDL Comic Strip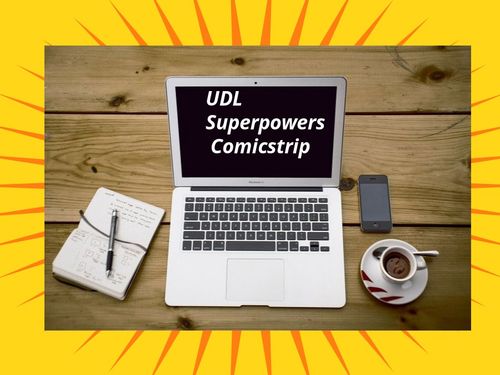 Project Details: Small group activity project as a requirement in the Exploring E-Learning Tools course through Oregon State University's PACE E-Learning Instructional Design and Development Certificate.
Tools Used: Techsmith Snagit, Bookcreator.com, Pixton
Mentors/Influencers/Teachers: Tim McKean's Office Hours, Karen Costa's 99 Tips Book, Flower Darby's Small Teaching Online, Apotheoscomicsstl.com, Cindy Etherton, & Josh Bancroft,
Instructional Design and Development Process
This was a solo project in response to Josh Bancrofts Exploring E-Learning tools course. Although this was an individual project, the ideas for this project began with the design experience Cindy, Lynn, and Chelsey put together for the Designing Effective E-Learning course. Once I experienced the gradual introduction of a tool adding an extra layer of accessibility in the weekly announcements, I began to see ways I could make the Plus One approach to improvements in my own courses and eventually this project. I continued to build on those ideas through the readings and interactions of those mentioned above.
I began with the concept of a comic and originally planned to use Pixton extensively for this project and just embed it within the shell of my site, but when I considered how Bookcreator.com would allow for more of the actual comic book feel of flipping the pages, I decided I really wanted to provide that from a UX perspective. Sadly, being that the images have text on them, the reader function of bookcreator does not work, making the comics fail the test of accessibility. I wanted the comic to demonstrate the type of consultation work that an ID typically needs to do with faculty.
The problem I ran into with this project was that I was that once I downloaded the PDF version of Pixton comic strip I had to find a way to embed the panels of the comic strip into the book reader. The way the panels were printed out in the PDF versions there was no way they would embed into the book creator interface. So I used Snagit to go through each of the 30 frames and try to capture them as close to the same dimensions as possible. Then I pasted each one into the book creator interface and tried to get them to line up as best as I could. They don't line up well and I will probably continue tweaking them inside the book creator editor. In terms of the time invested into this project for the outcome, I wouldn't think of this as a very scaleable project.
Overall I'm not happy with how the embed code works within WordPress. There are some issues with the HTML that I need to figure out so I can display it in the center.
2. Embedded Sway with Captioned Video Announcement
Sway Link (At this time Sway embedding is not supported by WordPress)
Project Details: The different parts of this Sway include a review of the previous week, an overview of week's focus, and a brief mention of activities. A captioned Youtube Announcement video is embedded at the end of the Sway to help provide multiple means of representation.
Tools Used: Microsoft Sway, Youtube, iPhone, Blackboard LMS
Mentors/Influencers/Writers: Cindy Etherton, Julie Dirksen
Instructional Design and Development Process
This motivation for adding a Sway into my weekly announcements came from Cindy Etherton's Designing Effective E-Learning course, where one week she featured a Sway as part of the announcements. This practice also connects with the advice from Julie Dirksen in her work Design for How People Learn. Dirksen mentions that sometimes people "fail because they lack enough of the big picture to guide their own success." I've found that by adding a more interactive multi-media experience in different parts of my course to give that big picture, then I'm able to increase student's motivation.
When designing a weekly announcement in Sway, I'm looking to not only welcome students to the week, but giving a short review of what we did the week before and connect what we are doing the current week to the previous one. I find this is an essential practice in a writing course that involves the development of high-level conceptual, procedural, and strategic skills. Learners need to see the connection to the bigger picture.
Editing in Sway took some tinkering to get the emphasis on different images, groupings, and titles. It is a process that I continue to experiment with, but I find the presentation options are much more visually appealing than a powerpoint or other presentation tools. And I can embed and upload media fairly easily. The only exception I discovered is that I cannot embed a Sway without an iframe in WordPress. This is important as WordPress has become an important option for an LMS for some smaller organizations.
4. Using Embedded Infographics to Reinforce Course Concepts
Project Details: This infographic was created to help explain what is for many writers a complicated concept, especially since there are many different types of cohesion.
Tools Used: Canva, Scrbd, Blackboard
Instructional Design and Development Process
I've begun to look for concepts in my courses that seem complex in the way they are presented, either in either textbooks or other instructional materials. Once I've discovered points of confusion, I try to find ways to scaffold the understanding for my learners. Sometimes it can be a video, podcast recording or, in this case, an infographic.
Since I first began teaching composition courses, I've always struggled to explain this concept of cohesion and have learners apply their knowledge of it to their own writing. So I've found that by including the infographic near the end of a set of learning materials in a module it can reinforce different learning activities and help add clarity. In future semester, I plan to include a short audio recording along with the infographic so that there is an additional means of representation and it is ot only images.